Content Strategy and Marketing
Most recently I served as the Content Marketing Manager for Ghostery, provider of a browser extension that gives users more control over what they share online, as well as enterprise privacy services and solutions.
Previously I worked as the Content Strategist (Managing Editor/Content Producer) for Winthrop Intelligence, an innovative software services firm that builds user-friendly online database tools that help athletic directors and administrators in higher education make better hiring decisions.
Ghostery
As Ghostery's Content Marketing Manager, I headed the B2B-focused digital marketing strategy for content and lead generation, thought leadership, and brand awareness. Day to day, I owned, created content for, and managed the daily production of the Ghostery blog, email marketing, sales enablement tools (website, print, mobile), whitepapers, case studies, and newsletters. My leadership resulted in an organic traffic increase of 53% in six months—from 193k avg visitors/month to 295k avg visitors.
I worked cross departmentally to revise, measure, and align content to marketing goals and led a new account-based content marketing effort for the demand gen engine to achieve our KPIs (both velocity and conversion) that resulted in MQL-to-SAL rates of greater than 45%. The run-rate of leads from all 4 channels (SEO, SEM, Events, Nurture) equaled 2,000+ MQLs for Q1-Q3. My "test and iterate" approach continually gauged content effectiveness mapped to the buyer's journey for seven business units and products as well as a SaaS platform. I also bylined articles for the CEO and spearheaded PR efforts that landed features in the New York Times, Ad Age, and Vice's Motherboard.
White Paper - The State of Digital Vendor Governance
I led creation of The State of Digital Vendor Governance, a whitepaper summarizing the results of a first-of-its-kind, industry-wide survey. The whitepaper featured proprietary research of an emerging technological space that sits squarely between ad and marketing technologies and impacts global companies in retail, travel, financial services, technology, and media. Using the results of the survey, I ideated the piece, wrote the copy, and led art direction.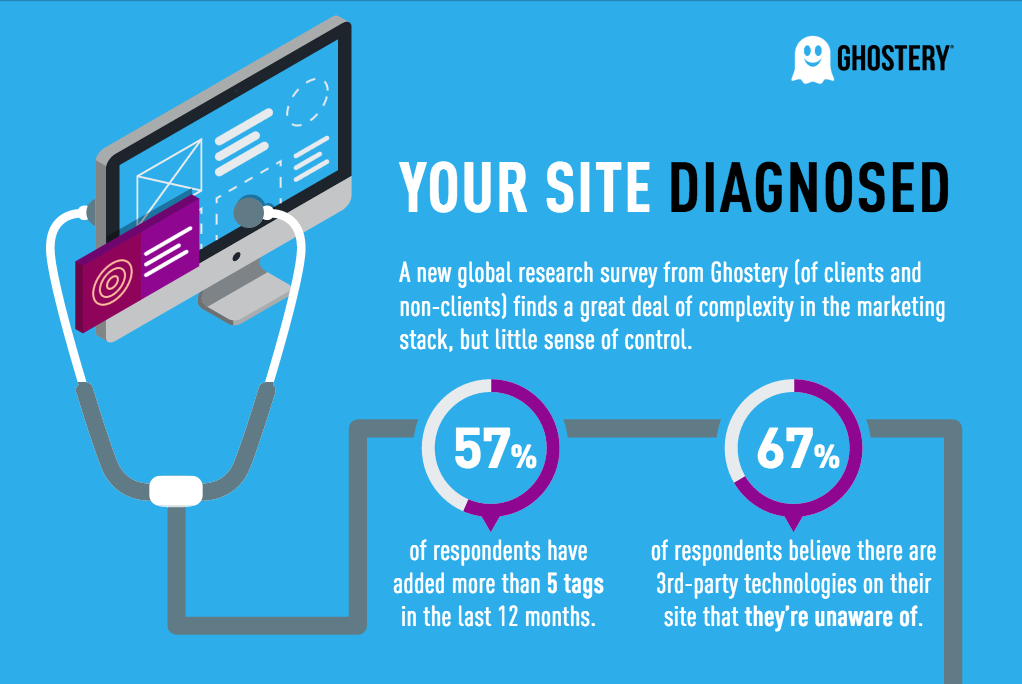 Infographic - Your Site Diagnosed
I created an infographic—Your Site Diagnosed—using the results of a global survey of IT and Digital Marketing experts from corporations ranging from small (up to 50 employees) to large (over 250), with assets of just over $1 million to multinationals with annual revenue of over $50 billion. I concepted the project, wrote the copy, and directed the design.
Sales Enablement - A Tale of Two Travel Companies
I spearheaded the conception and production of A Tale of Two Travel Companies, a two-page sales enablement tool for an account-based marketing effort. The travel campaign precisely targeting select EU travel companies and was used in anticipation of the busy holiday booking season.
One-Sheet - Digital Governance Tips Sheet
Case Study - Top 50 Retail
I wrote a case study of a Top 50 US Retailer that used Ghostery to boost performance and keep many of the technologies that were driving conversions and revenue. The results included a 4-second improvement in site speed, a 5% decrease in abandoned shoppers and a .5% increase in online conversions.
Winthrop Intelligence
I authored a wide range of original content for Winthrop Intelligence (college sports analytics) and HigherEdPeople (higher education HR). Day to day, I owned the blog, newsletter, and social media accounts, authored all communications and white papers, and optimized content strategy and personas to bring a new SaaS product to market—all of which grew organic traffic from 0 to 750k visitors per/month and 1.4M monthly pageviews. I also architected lead generation from our B2B email list and built a 30K email subscriber list. With this strategic execution of brand voice and precise prospect targeting, the result was satisfied clients and a 98% customer retention rate.
I wrote content for the websites, marketing copy for the sales channels, and generated dozens of high-value links, increasing domain authority from 0 to 60+ in two years. Winthrop now ranks page 1 of Google for thousands of high intent keywords. In addition to my writing and editing duties, I sourced writers and ran the editorial schedule and the workflow of over 25+ authors, Additionally, I oversaw the work of the design team, and mined analytics for actionable SEO/SEM strategy insights. Our content set records for unique views and product sales in Q4 2012 through Q4 2013. The writing was cited by the New York Times Editorial Board—a piece on the Ed O'Bannon litigation—and The Atlantic—on NCAA tournament payouts—and was profiled by Inside Higher Ed.
Winthrop Intelligence Year In Review
I wrote Winthrop Intelligence's Year in Review, a deep look at Winthrop's impact on college athletics. From a continuous stream of new innovations, to citations in the New York Times and the Atlantic, 2013 was a terrific year for Winthrop Intelligence and their clients.
Video - HigherEdPeople.com
I concepted and storyboarded an animation about the benefits of using HigherEdPeople, an organization devoted to the belief that finding quality talent in Higher Education should be easier and less time-consuming than it is today. HigherEdPeople removes the middle-man and gives you the best tool available to find the best candidates.
Article - College Sports Social Media Round Table
I guided the production of a Social Media Study in college athletics. We looked at data provided from the University of Miami, Mississippi State, UNC, and Oregon about the growth of their social outreach, the concentration of users across platforms and total users, and emerging channels. These leaders also generously discussed their most successful campaigns, how precisely they interact with fans online, as well as social media's measurable impacts on ticket sales.
Article - Sports Technology: Recent Patents and New Innovations
I produced and edited an article on Sports Technology, the innovations for which patents have been awarded in 2013 for sports equipment and training, as well as a brief historical overview of recent patents and some of the most active assignees.
Article - Coach Influence on Player Development
I produced and edited an article about Coach Influence on Player Development where we sought to answer the question: What affect does a college football head coach have on a recruit? Because we are able to observe multiple players going through a system with a single coach, we were able to estimate coach fixed-effects of the probability of a player making a professional roster.